iKid Overview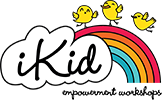 iKid is a playful, engaging and interactive empowerment workshop that teaches 5-8 year old kids the practical skills to create a respecful, kind and playful school environment. In a style that resonates with the younger crowd, creator and facilitator Ashley McIntosh takes the role of the fun older sibling, giving kids the information and skills needed not only to feel great about themselves but to rock their friendships for years to come.
Outline
i am my true self
No one wants to be trapped by gender stereotypes. Break free of the rules and be the real you!

i celebrate that we're all unique
We are all made up of many colours – the dark and the bright. Appreciating what each one of us has to give to the world creates the most beautiful rainbow.

i get and give kindness, love and respect
Being kind to others creates an environment of love and respect. When we give, we get back…and everyone wins!

i can cope with friendship changes
Being left out stinks! Know that you're not alone, speak from your heart, and be assertive.
Who: Students in grades K-3.
How long: 75 minutes.
How many: One class at a time, maximum 3 workshops per day.
What we need: Multipurpose Room, Library or Classroom, tables and chairs for participants.
Cost: $250 per 75 min. workshop, $350 for two workshops (half day), $500 for 3 workshops (full day).
For more information or to book workshops, contact Cath Blythe by email at cath@saleemanoon.com or by phone at 778-855-3009.