Testimonials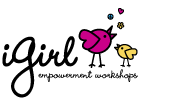 The feedback below summarizes some of the wonderful input we've received from the girls and their parents.
Feedback from participants
What did you enjoy most?
learning to make good choices
that we learned a lot but it was still fun!
how you could share anything with trust
the nice women who run the program
making new friends and working in groups
feeling my self esteem grow at the end of every day
via anonymous written evaluation
What did you learn?
how to stand up to bullies (especially the "eye contact" trick)
that I am the boss of my body and how to take care of my body
how to have a healthy relationship with everyone in my life
how to be more social
a lot about myself that I never thought of before
why the internet can be dangerous and how to protect myself
how to talk to my parents about things I am worried about
how to love myself for who I am and that I don't need to change
via anonymous written evaluation
Dear Saleema, a big thank you to you for your insights and inspirational talk to our girls! They all loved it and we will most likely come back next year again! I asked each of them in the car just to give me ONE word to describe how they feel after the sessions and this is what each of them came up with: "STRONG", "CONFIDENT" and "LESS INTIMIDATED". They had so much to say I felt like I had to drive another block just to listen in! Parent, Richmond, BC
Saleema really does an amazing job with the girls, and [our daughter] is so comfortable to talk to us about stuff I would have never been able to discuss with my parents when I was her age. Parent, Vancouver, BC